Art & Design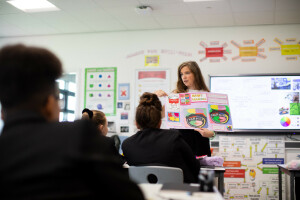 In Art & Design we encourage and promote knowledge and understanding of art, craft and design in past decades and contemporary society. To stimulate and maintain student curiosity, interest and enjoyment in Art, we provide a programme of study which broadens experience, fosters creativity, develops imagination and promotes personal and social development.
In Key Stage 3 pupils are taught the fundamentals of drawing and painting, how to manipulate a selection of materials and simple techniques in print making, 3D construction and collage.
The GCSE course in Art and Design enhances skills and techniques previously studied at Key Stage 3. We shall teach the pupils how to explore and experiment, how to research, how to create and how to present their finished work. We shall encourage them to draw and paint in a range of media and we shall help them acquire the skills and techniques required to successfully pass the course. There is an emphasis on observational drawing, 3D and mixed media work and investigating the work of artists, craft workers and designers. At GCSE there are opportunities to visit museums and art galleries to further broaden their knowledge and experience of Art in situ.
The Art and Design facilities are excellent.  The Art Room is large, bright and well equipped.  Pupils that work in Art and design have space to make and create exciting outcomes in a range of scales.  As part of the new build Art and Design are fortunate enough to offer experiences using 3D materials, in particular ceramic media that which can be fired and glazed on site.