Drama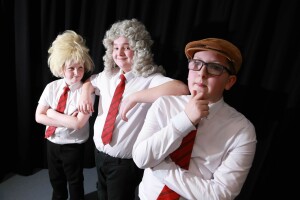 In drama, students work on developing essential skills such as confidence, team work, concentration and control of movement. They build these skills through the activities and games in lessons, working individually or as part of a larger group. Drama relies on the students' independence and ability to think creatively, this in turn develops the fundamental skills used in drama lessons. 
 
Drama is a practical subject which focuses on performing, devising and improvising. In key stage 3 students also develop their skills in voice control, facial expressions and movement. This is done through performing existing pieces of drama and creating new pieces of drama from a given stimulus. Students are encouraged to be as creative and imaginative as possible, without fear of making mistakes, thus developing their confidence. The department is fortunate to have links with practitioners who visit the school and provide workshops for our students. 
 
The drama room is a large state of the art studio with black out curtains, a full set of overhead horizontal lighting bars and an excellent sound system. There are some fantastic extra-curricular clubs for students to be involved with, including a Junior Drama club for years 7 and 8 and "Well Productions" which is open to all year groups. Drama students have performed in school and in the local community at various events including Christmas concerts. The drama and music department collaborate together to put on performances showcasing the hard work of our students.