Design & Technology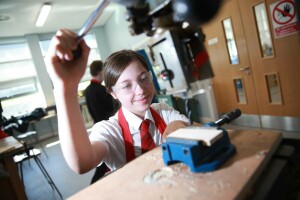 Introduction to the subject
Product Design is a Technology subject taught through both Key stages. Product Design enables pupils to use their design skills and technical knowledge to improve the way that existing products work and look, as well as designing and making entirely new products. Pupils will use drawings, 3-D models and computer aided designs to express their ideas. Pupils are given the opportunity to understand new technologies, production methods and materials and be able to meet deadlines and work within budgets.
Throughout the subject pupils will develop usable real life skills to help when they leave school and understand how the world operatives from a technological perspective.
KS3

Throughout KS3 at Ysgol Treffynnon, students are given the opportunity to explore a number of relevant and relatable contexts. This allows pupils to develop their skills when designing a product and eventually manufacturing it. Pupils will use a variety of different materials and equipment to produce concepts whilst following the design process (Understanding, Research, Designing, Making and Evaluation).
KS4

At Key Stage 4 students can opt to take GCSE Product Design.
Years 9 & 10 – Pupils will complete a series of projects in which they will gain the necessary skills to be able to complete their own project at Year 11. These are run in a way in which pupils will gain experience working with a range of materials and processes required at GCSE. Pupils will also learn about Design and Technology in the 21st Century in preparation for the examination at the end of year 11.
Year 11 – Pupils will choose one brief from WJEC which forms the basis of their 'substantial Design and Make task'. Pupils are expected to complete an A4 sketchbook, A3 formal presentation sheets, a prototype and final product showcasing their journey through the design process, from problem to solution. Pupils sit one 2 hour exam covering all theory content.