Physical Education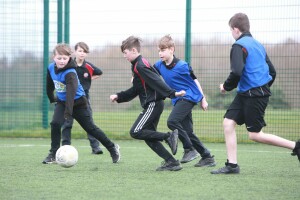 In the Physical Education Department we aim to contribute to the overall education of young people by helping them to lead full lives through engaging in purposeful activity. Above all else we hope to create an environment where pupils enjoy their physical education through participation in team and individual sports. After moving into our new building we are very lucky in the sporting provisions we have which include one huge multi-sport sports hall. In the sports hall we have 4 badminton courts, numerous basketball hoops, indoor netball, tennis and volleyball courts; we have a trampoline with a spotting rig and cricket nets. This fantastic facility allows us to offer the pupils a much wider range of activities within both their curricular and extra-curricular time.
Outside we currently have a hard court play area, this has 2 netball courts and 3 tennis courts. As the building work continues on the old site, in 2017 we will have a second outdoor multi-sport area in the form of a full size 3G all-weather pitch that can be used for football, netball, hockey, all of which will be surrounded by a grass 6 lane running track and long jump pits. Towards the next academic year, once building work nears completion we will be benefitting from football and rugby pitches. These facilities are fantastic for our pupils at both Key Stage 3 and 4, but also will greatly benefit pupils who are studying PE at GCSE level, offering them some of the best school facilities that Flintshire has to offer.
These facilities will not only benefit the pupils of Ysgol Trefynnon, but the wider community of Holywell as these facilities are to be made available for people and sports clubs to use during the evenings and weekends.
We are proud of our achievement in competitive sports both at county, national and international level and we encourage pupils to involve themselves in various sporting clubs and activities. We have an extensive extra-curricular programme here at Ysgol Trefynnon, with current activities such as football, netball, handball, basketball, dodgeball and skiing, to name but a few. These clubs are thriving and we are one of the strongest schools in Flintshire for extra-curricular participation.
In the past we have run a number of trips to Europe within the PE department, football trips to Holland and France; Ski trips to France, Austria and Italy.
Finally, as mentioned above we offer Physical Education at GCSE level. Many pupils participate in this subject and achieve great results. Last year's cohort achieved our best results ever, achieving 72% A* – C, and we hope to support and help our students and to improve upon these results for our future students.