English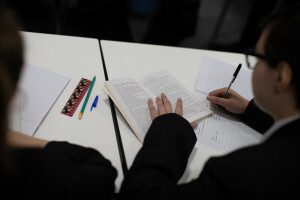 English is central to every pupil's education. The ability to read with understanding, write clearly and expressively, as well as to discuss ideas is central to getting on in life and work. We aim to build on literacy skills achieved in the junior schools, to widen the depth and breadth of vocabulary used, and to foster a sense of the importance of reading as the gateway to success in all subjects across the curriculum.
In line with the English National Curriculum in Wales, our Year 7-11 courses cover speaking and listening, reading with understanding and writing.
Our aim is to encourage pupils to become thinking individuals through lively and topical debates and discussions. We observe that the most successful pupils are usually those who are self-motivated and proud of their work, whatever their level of attainment.
Throughout Key Stage 3 (Years 7,8 and 9) pupils are prepared for their teachers' assessments of their work, which are formally recorded at the end of Year 9. Teacher Assessments have replaced the S.A.T. examinations in Wales (Standard Assessment Tests). Year 9 pupils are introduced to the rigors of GCSE early in the year.
In Key Stage 4, the majority of pupils take a GCSE course leading to qualifications in English Language and English Literature.