Music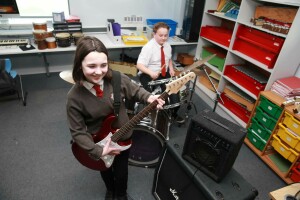 In the Music Department students are encouraged to broaden their knowledge and enthusiasm for the subject in a creative and evolving world.  They develop their individual and team working skills through many of the opportunities provided, and take responsibility for developing their individual learning pathway.
Music is a practical subject divided into three distinct parts: composing, performing and appraisal. In Key Stage 3 a large part of the lessons are taken up with composition and performance, with both aspects gradually demanding an increasing awareness of musical style, practical and technological skill.
Singing and learning to play a variety of musical instruments is an intrinsic part of classroom experience. We are extremely fortunate in having Music Suite that provides students with the professional facilities they need.  The suite includes: a suite of Mac computers, a recording studio, 4 practice rooms, a small ensemble room and a radio station.  Through the work of both students and staff the department endeavours to bring music to a wider audience through many community concerts, performances and shows.
Peripatetic music teachers provide brass, woodwind, strings, guitar, percussion and singing lessons. Many students receiving peripatetic lessons are entered for Associated Board examinations, with great success. The school has many vibrant and busy extra-curricular groups. The choir and ensemble groups make appearances in the community, and a number of pupils belong to county bands, orchestras and choirs.