Headteacher incredibly proud of GCSE students
Headteacher incredibly proud of GCSE students
24 Aug 23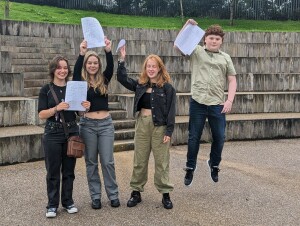 Ysgol Treffynnon, in the face of persistent pandemic-related challenges, is elated to announce academic achievements that defy national expectations.
Despite the national announcements that the number of higher grades would be down this year, Ysgol Treffynnon has proved to be an exception and is steadfastly progressing towards educational excellence in line with its school vision.
Over the last three years, Ysgol Treffynnon has seen a year on year increase in overall GCSE performance, surpassing levels seen before the pandemic.  In particular, students have achieved significant improvements in English and Literature Level 2 outcomes.
The school is also delighted to share that those students receiving Free School Meals (FSM) have made great progress in Mathematics, English, and Science, demonstrating improvements beyond those seen pre-pandemic.
When it comes to core subjects, the school is especially proud to report notable progress for both girls and boys, with English and Mathematics GCSEs exceeding pre-pandemic levels.
In addition, there has been an impressive rise in the number of students achieving 5 or more A/A* grades representing almost 10 per cent of the cohort, which is an incredible achievement amidst the national projections of declining numbers attaining the highest grades. 
Ysgol Treffynnon has in fact doubled the number of students achieving the top grades compared to last year and, importantly, a fifth of FSM students have gained 5 or more A/A* grades.
Amongst the highest performers are Rhianna Baldwin Jones 5A* 5A, Grace Bellis 5A* 1A, Lewis Bowen 2A* 4A, Daniel Davies 6A* 2A, James Hughes 1A* 7A, and Maison Shipton 4A* 6A.
John Weir, headteacher, is thrilled with the students' excellent results this year.  He said: "At Ysgol Treffynnon, we remain unwavering in our commitment to providing exceptional education and support to our students, regardless of the challenges they may experience."
"I am immensely proud of our students for their outstanding achievements and of our dedicated staff for their tireless efforts, which have made these wonderful accomplishments possible.  I would like to wish all our year 11s every happiness and success as they move on to the next stage of their education, training, or into employment."